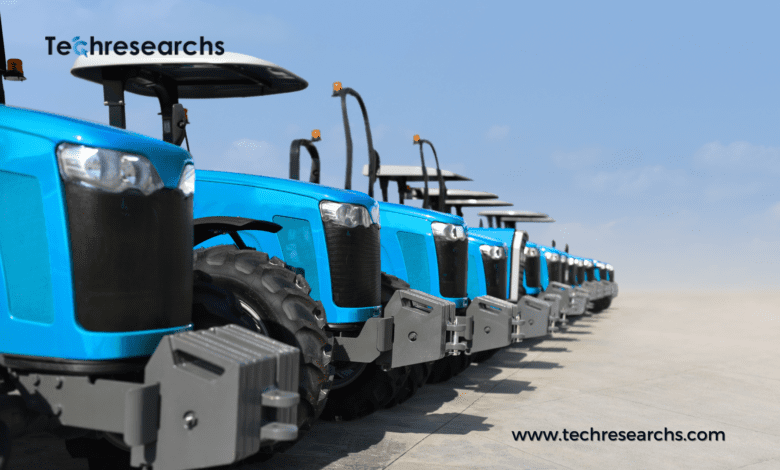 Self-driving electric tractors lead sustainable farming innovation, ushering in an era of efficiency and environmental progress.
Introducing Self-Driving Electric Tractors: A Paradigm Shift
The landscape of agricultural technology is undergoing a transformation, and at the forefront of this revolution stands the New Holland T4 Electric Power.
This groundbreaking electric light tractor prototype, equipped with self-driving capabilities, marks a significant stride towards automated farming.
Addressing the needs of both farmers and the environment, this tractor combines the power of automation and electrification to reshape the farming landscape.
Clean Energy and Precision: The T4 Electric Power Advantage
This self-driving electric tractor boasts numerous advantages that resonate with farmers seeking environmentally friendly solutions.
With zero emissions and quieter operation compared to traditional diesel counterparts, the T4 Electric Power demonstrates its commitment to sustainability.
Beyond its eco-friendly attributes, this tractor reduces operational costs, a pivotal factor for farmers.
Equipped with sensors and cameras, it navigates tasks seamlessly, evading obstacles while synchronizing with other equipment. The convenience of remotely initiating the tractor via a mobile phone adds a layer of efficiency to its capabilities.
Empowering Performance and Versatility
Drawing parallels to conventional tractors, the T4 Electric Power boasts a robust 120 HP motor, capable of reaching speeds up to 25 MPH.
Its battery's endurance spans an entire day, catering to diverse agricultural missions. Even the prospect of a mid-day recharge is manageable, as the T4 Electric Power can achieve a full battery charge within an hour through readily available fast chargers.
Beyond Farming: A Multi-Faceted Solution
Similar to the concept of Ford's F-150 Lightning serving as a mobile power source, this self-driving electric tractor holds the potential to act as a versatile power hub.
In times of crisis, it serves as a backup power supply while accommodating everyday instruments through its integrated outlets.
Compatibility with mechanical, hydraulic, and Power Take Off tools enhances its adaptability, promising a comprehensive farming experience.
The anticipated release of the finalized T4 Electric Power, along with future iterations, promises to diversify and amplify its impact by the close of 2023.
Harvesting Green Power: The T7 Methane Power LNG
Diversifying the environmentally conscious choices available to farmers, the T7 Methane Power LNG makes a bold entrance as the world's first liquid natural gas tractor.
Pioneering the utilization of biomethane derived from livestock dung, this innovation not only minimizes emissions but also repurposes gases that would otherwise contribute to global warming.
With the potential to reduce CO2 emissions equivalent to 100 "western houses," this tractor holds the promise of a greener future for farming.
Toward a Sustainable Future: Economic Considerations and Savings
While price points remain undisclosed, CNH Industrial envisions its technology translating into substantial long-term savings.
The T4 Electric Power, with its zero-fuel design and decreased maintenance requirements, could slash operating expenses by up to 90%.
Its noiseless powertrain empowers nocturnal operations and proximity to animals. On the other hand, the T7 LNG taps into the potential of fuel self-sufficiency, generating fertilizer and surplus electricity for a potential sale.
Amidst reduced environmental impact, farmers stand to recoup investments, further solidifying their commitment to sustainable agriculture.
Learn more about How Self-Driving Cars Will Revolutionize Our Mobility
Conclusion: Self-driving electric tractors
The emergence of self-driving electric tractors encapsulates a powerful shift in modern farming practices.
Embracing automation, sustainability, and versatile energy solutions, these tractors showcase the industry's dedication to a greener and more efficient tomorrow.
As the farming landscape transforms, the trajectory of these innovations points towards a future where technology and agriculture harmonize for the greater good of our planet and its inhabitants.